CUTTING-EDGE EQUIPMENT
FOR THE MOST RELIABLE SERVICE
All vehicles are equipped with an intelligent transport system (ITS), which allows, at any time, from any device and in any condition (stationary or moving), to track vehicles real-time position via GPS system and detailed maps, as well as to measure consumption, stops and transit times.
Municipalities, schools and parents, through a website, can monitor in real-time the position of school vehicles along the planned route, with departure and expected arrival times, and be timely informed on potential deviations and delays.
In addition to this equipment, each driver is provided with a modern smartphone, which number is communicated to customers and families at the beginning of the school year to ease communication.
More than 1,000 children everyday use our school buses to get to their school and back home, in total safety and with the highest standards of comfort.

Rossi Mora Viaggi, as a member of the consortium Travelbus Soc. Coop, carries out school transport services in 5 municipalities of the province of Parma: Calestano, Terenzo, Polesine Zibello and Roccabianca.
The company owns 22 school transport vehicles, from 15 to 53-seated, some of them equipped with an electro-hydraulic lifting platform for people with no or reduced mobility.
Routes are defined in agreement with Municipalities, based on users, schools opening hours and other safety/effectiveness-related criteria.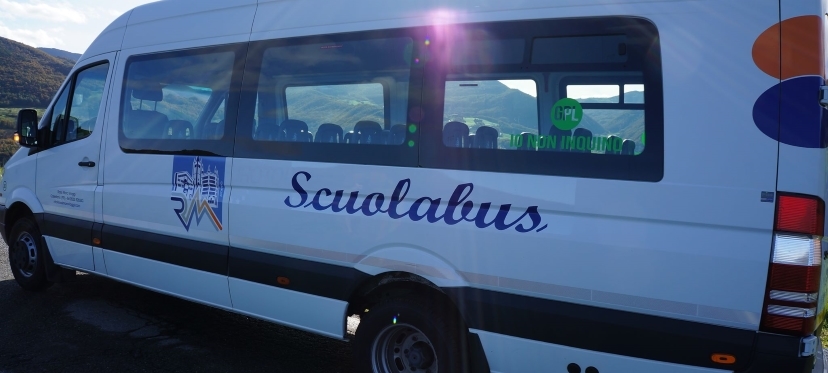 Rossi Mora Viaggi carries out school transport services for the Municipality of Parma (known as "Happy Bus") through 14 school buses, from 32 to 50-seated.
The Happy Bus service is designed to meet the mobility needs of scholars in Parma's primary and secondary schools, both public and private, as well as of children in nursery schools.
The service was established with the intent to reduce private traffic and the consequent pollution phenomena in the urban area of Parma, and to effectively ensure school attendance, as dictated by the "Right to Study" Act.

The Happy Bus service is organized and coordinated by TEP S.p.A.
School bus lines and routes are defined each year based on user bookings and schools opening hours, trying to match families' needs with service safety/effectiveness-related criteria.